The site Korman' 9 was discovered by our team during the 2012 survey season and subsequently excavated in 2013. During our fieldwork we collected abundant chronostratigraphic, palaeoenvironmental, chronological, lithic and faunal data. Within a ~4 m deep sequence we have identified four Archaeological Layers (AL 0 to III) and AL I can be attributed to the Epigravettian, AL II most probably to the Epigravettian (small sample size), and AL III most probably to the Gravettian. AL 0 is too small to allow a cultural attribution.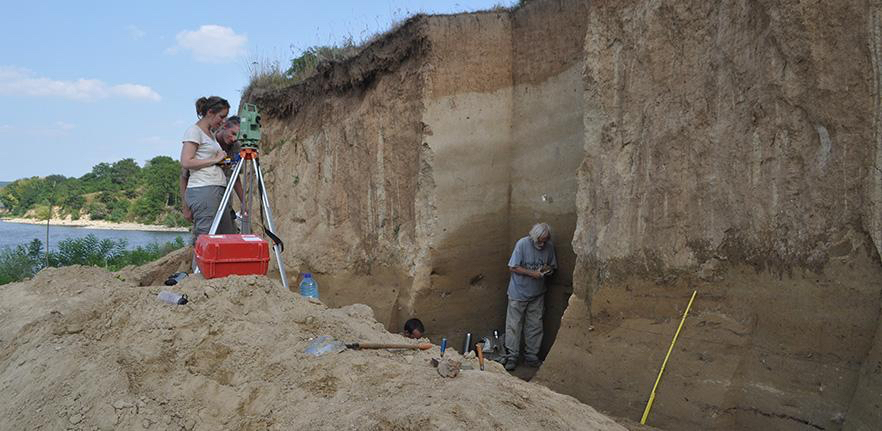 This project is a collaboration with Larissa Kulakovska (Museum of Archaeology, Institute of Archaeology, Ukrainian Academy of Sciences). Further partners are: Vitaly Usik (Museum of Archaeology, Institute of Archaeology, Ukrainian Academy of Sciences), Paul Haesaerts (Royal Belgian Institute of Natural Sciences), Stephane Prison (Awap), Freddy Damblon (Royal Belgian Institute of Natural Sciences), Natasha Gerasimenko (University of Kyiv), and William Chase Murphree (ICArEHB - Interdisciplinary Center for Archaeology and the Evolution of Human Behaviour, University of the Algarve).
Among the faunal collection, species identified include Bos sp., Equus sp., Rangifer tarandus, as well as carnivore and hare remains. Faunal analysis demonstrates that exploitation focuses on reindeer and horse. Lithic assemblage comprises more than 600 objects and indicates an Epigravettian occupation of the site. Most of the assemblage is made on dark brownish to blackish fine-grained chert of most probable local sources. Lithic analysis for AL I shows microblade technology and a toolkit dominated by microliths (backed and marginally retouched microblades and bladelets).
Organic artefacts include a pendant on Vulpes sp. tooth, a rectangular amber pendant, shell bead made from Dentalium sp., a distal fragment of a bone needle, and a Theodoxus sp. shell bead.
We documented three combustion features, two in AL I and one in AL II. One of the combustion features shows red baking of the underlying sediment indicating high fire temperature. Thick ashy and charcoal-rich layers were documented. A detailed geoarchaeological study is in progress.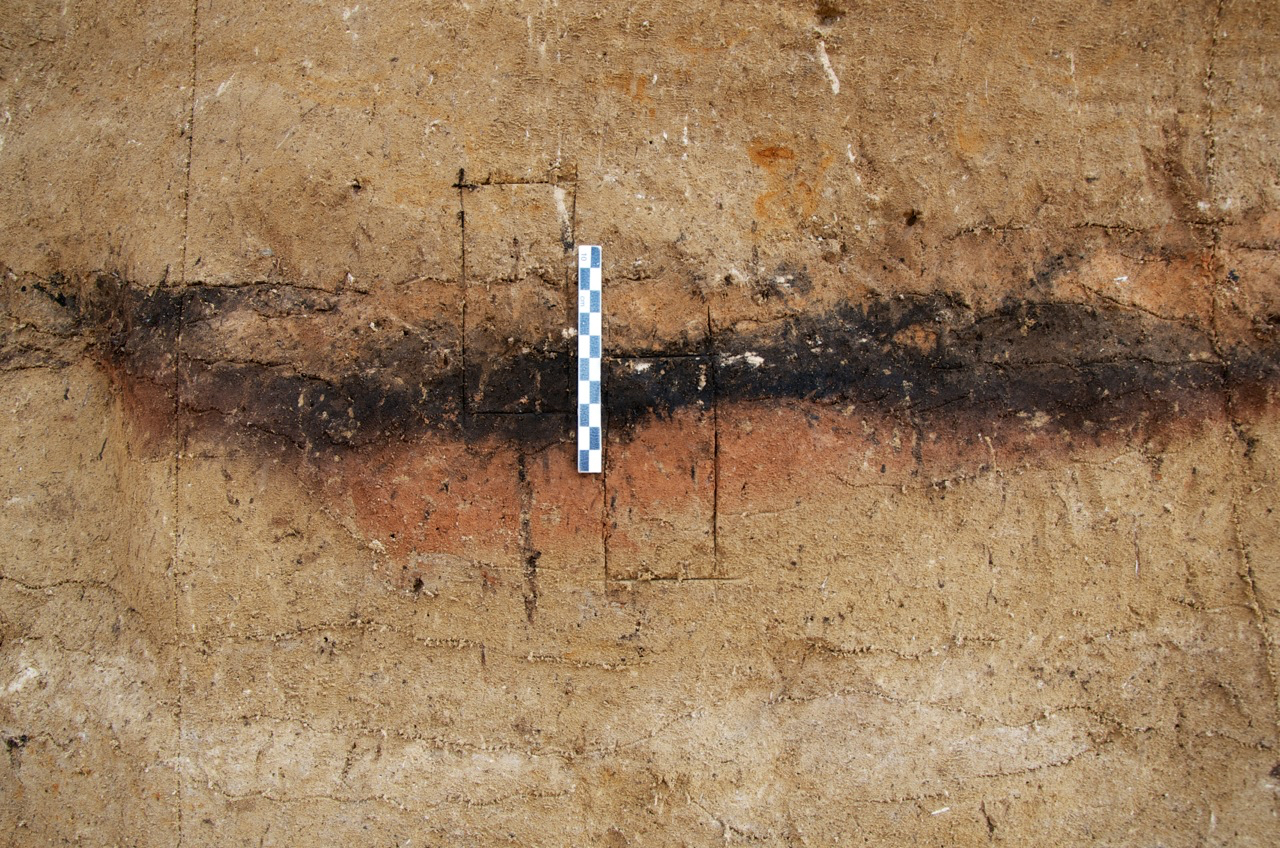 The archaeological results fit well into the regional Upper Palaeolithic record, and the correlations with sites like Molodova V, Korman' IV, Cosautsi, and Dorochivsti III are well established. Our results allow us to conclude that humans were present at Korman' 9 during the Last Glacial Maximum under arctic (AL II and AL III) and sub-arctic (AL I) conditions. The site and its collections allow a further discussion of human presence/absence during cold and arid conditions around the Last Glacial Maximum.
For more details please consult our publication:
Kulakovska, L., Kononenko, O., Haesaerts, P., Pirson, S., Spry-Marqués, P., Bosch, M. D., Popova, L., Popiuk, Y., Damblon, F., Usik, V., & Nigst, P. R. (2021). The new Upper Palaeolithic site Korman' 9 in the Middle Dniester valley (Ukraine): Human occupation during the Last Glacial Maximum. Quaternary International, 587-588, 230-250. https://doi.org/10.1016/j.quaint.2021.02.021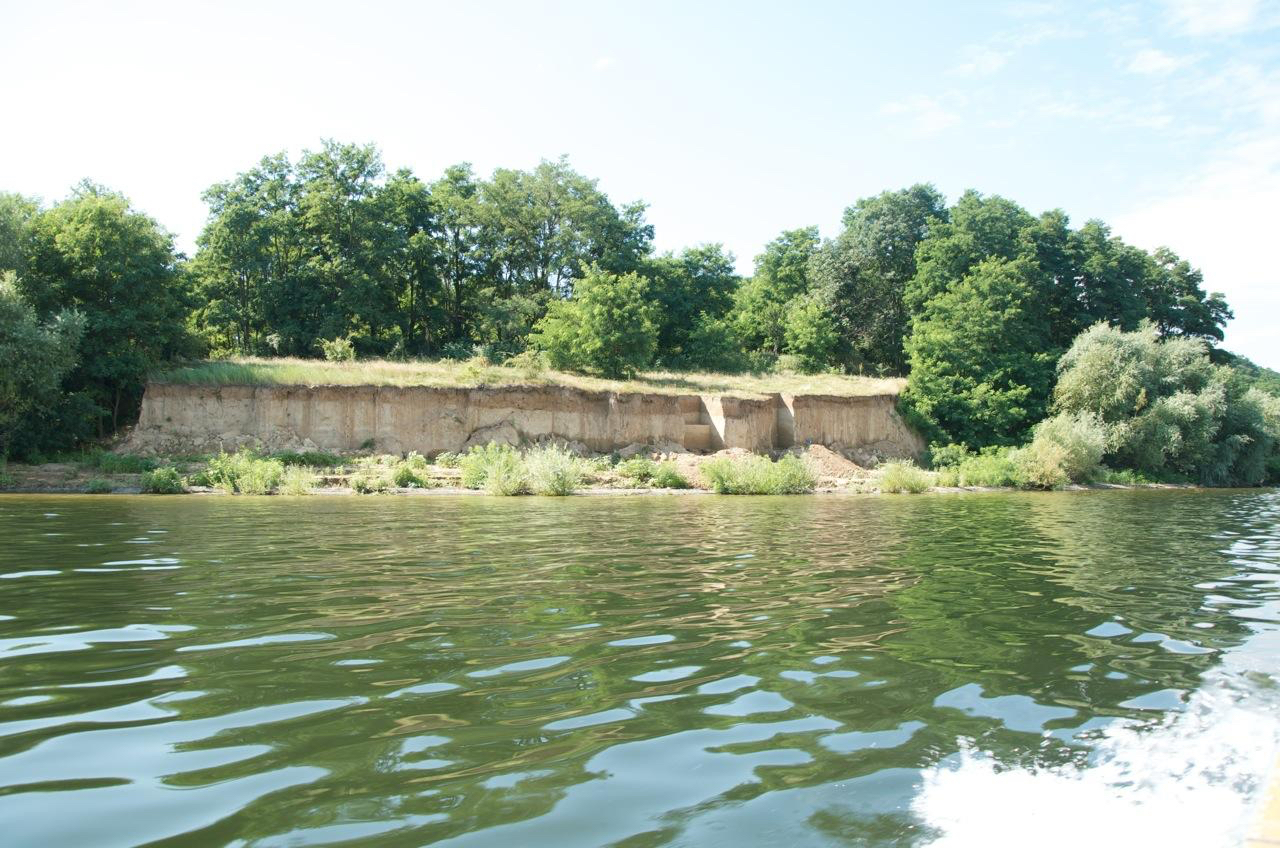 All images © by Philip R. Nigst, unless otherwise stated.